Trusted Bed Bug Services For Kingston, New York
You might think bed bugs are only a problem in dirty houses or rundown motels, but the truth is that bed bug infestations are on the rise and can be found anywhere, from the cleanest homes to five-star hotels. When bed bugs get into your house, they can quickly reproduce and spread from room to room, leaving your family covered in itchy bites and leaving you awake at night with worry. If bed bugs have gotten into your home, get rid of them with help from Pestmaster® Services of the Hudson Valley and capital region.
Our Bed Bug Process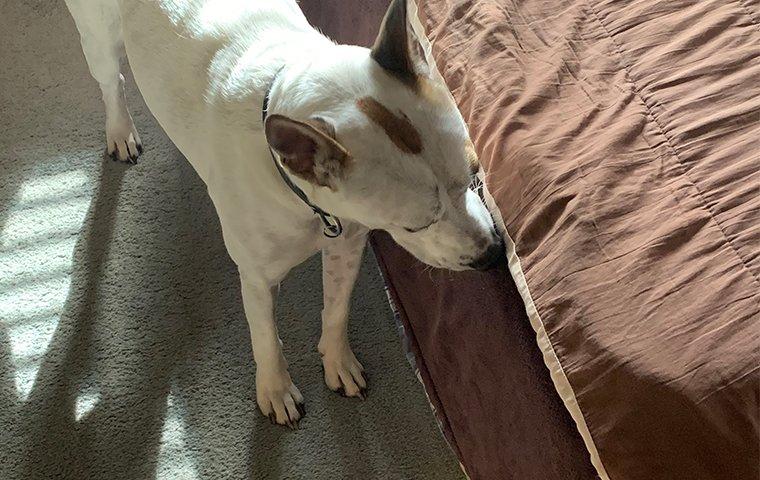 Bed Bug Inspection
Our bed bug control begins with a free inspection of your home. We'll use this time to identify the pest you're dealing with and determine how widespread the infestation has become. This information allows us to decide what the best treatment course is for your situation.
K9 Inspection Service
As the first and only company in the area to deploy scent detection canines for entomological use, we also offer a K9 inspection service for an additional fee. Since 2002, our specially trained bed bug detecting dogs have been identifying even the smallest infestations with a high degree of accuracy. This technique not only helps to positively identify infestations that are in their early stages, but also allows us to target our treatments to the areas we know bed bugs are hiding.
Bed Bug Treatment
Pestmaster® Services has several bed bug control methods at our disposal. We base the type of treatment we use on several factors in order to provide you with the most effective service possible. We may also use a combination of methods.
Heat Treatments
Heat treatments are typically effective at eliminating bed bugs in just one treatment. They eliminate bed bugs in all stages of development and in hard to reach areas, like inside wall voids. We perform a follow-up visit two weeks after the initial treatment to perform an inspection and make sure all the bed bugs are gone.
Chemical Treatments
Chemical treatments place a barrier of protection in the areas where bed bugs hide. Once applied, this treatment remains effective against bed bugs for weeks. Chemical treatments include a follow-up visit two weeks after the initial treatment, at which time we apply another treatment. After another two weeks, we return to perform an inspection.
Freezing Treatments
We use EcoFreeze on sensitive items, such as toys and electronic equipment. This method uses frozen carbon dioxide to eliminate bed bugs.
Pestmaster® Services Bed Bug Warranty
We warranty our bed bug service when we perform a whole house treatment. If you choose to have your treatment done on a room by room basis, no warranty is available. Please contact us to learn more about our professional bed bug control service for the Hudson Valley and capital region, New York.